Executive Power of Baku responded to the appeal of APFP(r) on placing pickets in front of "Lider" TV channel negatively.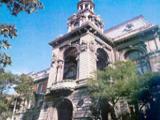 According to the information given to APA from the press service of the party, the Mayor's Office responded that there is no need for holding an action in front of the TV channel and recommended to solve the problem by dialogue.
It must be noted that, the party decided to place pickets in front of the building of the TV channel at 12.00p.m on 30 July. The party is not going to postpone the pickets despite of the respond of the Mayor's Office.