The next meeting between the pro-governmental and opposition parties will be held at the New Azerbaijan Party (NAP) headquarters on Friday.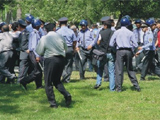 The NAP invited the chairmen of the Musavat, the Popular Front of Azerbaijan, the Democratic Party of Azerbaijan, the Civil Solidarity Party, the National Independence, 'Ana Vatan', the Social Welfare, as well as the head of the Baku office of the OSCE, Mauricio Pavesi to the meeting.
Husseyn Pashayev, the spokesman for the NAP, noted that he hopes in the participation of the opposition parties. He complained of Musavat party, which promised to organize the next meeting, but did not keep it.
"We did not receive any official reply from parties. It was unified at previous meeting that Musavat party would organize the next roundtable discussion, but the party did not take initiative despite 2 months passed. Thus, it did not demonstrate interest in dialogue between government and opposition," he said.
The party took the initiative taking into consideration the strong will of the NAP and the society in continuing the dialogue between the government and the opposition. Pashayev also stressed that the roundtable discussions would be held irrespective of the decision of the dissatisfied opposition parties. Absence of one or two parties at the meeting will not impact on political development, the establishment of a dialogue between the government and the opposition. "Nevertheless, we will wait for the opposition parties," the NAP representative said. According to Pashayev, the NAP would be represented by Ali Ahmadov, the vice executive secretary of the party.