The chairman of the Karabakh Freedom Organization (KFO) Akif Naghi appealed to the embassies of France, Italy, Ukraine and Uzbekistan in Azerbaijan with a letter.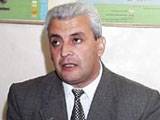 According to the information given to APA from the press-service of KFO, A.Naghi informed the heads of those embassies about that the countries represented by them cooperate with the separatist regime occupied by Armenia Nagorno Karabakh in connection with establishing and providing a communication system.
The KFO chairman noted that the regime in the occupied territories is guided by the military criminals and terrorists and the large net of the terrorist groups was formed in this territory which is out of the control of the international organizations.
He reminded that Vladimir Arutunyan who attempted on the life of the USA president in Tbilisi is the member of one of the terrorist groups situated in Nagorno Karabakh.
The KFO chairman informed that participation of those countries in any project in Nagorno Karabakh is valued by them as the support to the terrorists. A.Naghi required putting an end to such cooperation with those countries without delay. He said that in case such shameful actions are not put an end to, they will use other forms of impact.