The president of the "bp-Azerbaijan" company David Woodward conducted a meeting with the representatives of mass media in connection with the results of 6 months of the current year.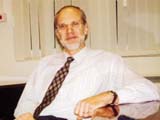 D.Woodward said that according to the results of the first six months, it was expected that $ 188 million will be spent on the plan for the operational expenses against $ 154 million this year: "Expected growth is connected with increase of transport expenses, realizing more works in the wells in Chirag, increase of technical service expenses".
The president informed that though the capital expenses plan on the Azeri-Chirag-Guneshli (ACG) works in 2005 was $ 311 million, according to the prognosis, $ 2 milliard 624 million were expended and noted that on average they produced 200 thousand barrels of oil daily from the Chirag and Central Azeri platforms during 6 months: "300 million tons of oil were produced in the Chirag platform in June. 250 persons work in the platform at present and 85 % of them are the citizens of Azerbaijan. 2,8 million cubic meters of direction gas is turned over to Azerbaijan from this platform daily. Work execution of the Central Azeri platform was good since being put into operation in February of this year and the production continues increasing as 10 wells drilled beforehand are joined one after another to the platform. The production amount from five wells forms approximately 150 thousand barrels today".
/APA/