Garadagh Cement Joint Stock Company of open type (JSCOT) has partly repaid debts to the Taxes Ministry. The enterprise covered the major debt in the amount of 13bn manats.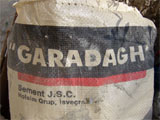 The remnant will comprise 3bn manats at the expense of penalties and fines. (Trend)
The Initial Criminal Investigation Department under the Taxes Ministry filed a lawsuit against the enterprise in accordance with article 213.4 (tax evasion in great amount). 
The JSCOT submitted accountancy documents with distorted information on incomes and expenses in the end of the tax examination, which covered the operations of the enterprise from 1 January 2003 to 1 January 2005.
Thus, the Ministry revealed that the JSCOT evaded from remitting 13,289,5m manats in taxes to the public budget.