President Ilham Aliyev yesterday received deputy of the USA State Secretary for Global Affairs Ms Paula Dobrianski.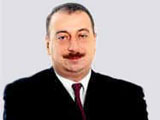 APA was informed from the President's Press Service. I.Aliyev stated that, her visit to our country provides good opportunity for discussing the issues on various spheres of bilateral and regional cooperation: "Our cooperation covers various spheres and has been developing successfully for along time. The USA is giving a great support to the development of economical sphere including energy sector of Azerbaijan".
Stating that the USA renders great assistance to Azerbaijan in the field of security, peacekeeping operations, democratic growth, the head of state stressed that Azerbaijan shows itself as serious partner and is dedicated to the policy of developing bilateral cooperation. I.Aliyev said of the cooperation between our countries to be regionally important: "Azerbaijan is playing significant role in the regional affairs; the economy of Azerbaijan is growing rapidly. Our country is situated in the juncture of important transport corridors. Great projects are implemented in Azerbaijan. In this context, the cooperation of the USA with Azerbaijan is of great importance for the region".
The President stated that the relations between our countries will further develop and this visit will give its gift to the strategic cooperation between Azerbaijan and the USA.
P.Dobrianski stated that, there is strong partnership between Azerbaijan and the USA: "We highly appreciate our cooperation with Azerbaijan and we have achieved solving a number of issues concerning both countries in this frame. We thanked to Azerbaijan for its participation in several peacekeeping operations and assistance in this sphere. The cooperation between our countries is developing successfully in energy sector, too".
The deputy USA State Secretary said of the forthcoming parliamentary elections to play an important role in the democratic development of Azerbaijan. Stating that the USA is ready to assist Azerbaijan in this process, P.Dobrianski noted the people are showing great interest to the upcoming parliamentary elections:" the realization of the objectives confirmed in the executive order signed by you on the improvement of the election practice is very important for holding democratic, transparent elections in Azerbaijan.