"Azerbaijan is located in the most important strategically region, it shouldn't be forgotten how much Azerbaijan is an important country from the point of view of concerns of the USA in the region."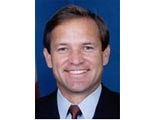 With this statement the American congressmen Chet Edwards made a speech.
The congressman of Texas during his speech in the USA House of Representatives stated that, after the events of 11 September Azerbaijan was one of the countries that supported the anti-terror operations of the USA in Afghanistan and this country offered its air space and airport for the USA military forces without any term. Chet Edwards  didn't forgot to state that  Azerbaijan was the  first Muslim  country  who sent its  military forces to  Iraq to  struggle together with the USA forces against  terrorism.
"Azerbaijan having joined all the 12 international convention on struggle against terrorism, within the frame of NATO, OSCE and other organizations, struggles against terrorism. Azerbaijan also chairs the working group in GUAM against terrorism, organized crime and prevention of circulation of narcotics. I announce in pride that, Azerbaijan was the first country who opened the Caspian Sea to international cooperation in the field of oil and gas output. Beginning from 1994 Azerbaijan enriches the sources of energy supply of West. On May 25 the Azerbaijan part of Baku-Tbilisi-Ceyhan oil pipeline was put into operation that, East-West energy corridor will play an important role in the security of the region." The congressman called Azerbaijan to be partner of the USA in global war against terrorism and in the energy sector. "The USA is the   main country supporting Azerbaijan in the efforts protecting development of democracy and stability. Azerbaijan tries to be democratic state and confident partner in Caucasus, Europe and generally in the international arena. It is already an important partner in the multisided fields.  Free and fair elections will help us to develop this partnership".
/APA/