The stability is a security of economic growth of Azerbaijan, Azerbaijani President Ilham Aliyev said in his address to the public of Khachmaz District on Tuesday.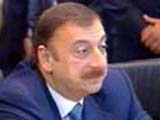 According to the President, the settlement of the household problems of the regional residents is directly linked with the economic development of the country.
«Meeting with citizens and the solution of vital problems are inseparable part of my activities," Aliyev underlined, noting the tremendous work done in Khachmaz District over the past period for the improvement of social living conditions.
The head of state said that in 2006 it is planned to build a new power station in Khachmaz, which will enable to cover the northern regions' demand in energy.
President Aliyev informed on the plans on construction of new power stations in different regions of the country.
The President noted that the implementation of the Baku-Tbilisi-Ceyhan main export oil pipeline project will attract big finances to the public budget, and enable to carry out a set of measures on the development of the private sector of economy, as well as rise of salaries.
In the conclusion the President said that all letters and appeals by the residents of the northern regions would be considered and relevant resolution will be made.