The deputy on the global questions of the USA state secretary Paula Dobrianski is coming to Baku.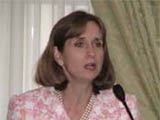 APA was informed about it from the press-service of the USA embassy in our country.
P.Dobrianski will meet with the officials of Azerbaijan, leaders of the opposition and others during her visit. The visit will end on July 28.