On Friday the Monitoring Center Ray (Opinion) publicized the results of sociological inquiry in 34 settlements of Azerbaijan to study the pre-elections situation in the country. Rizvan Abbasov, the Director of the Center, said that 1138 respondent aged above 18 participated in the inquiry held from 10 to 14 June.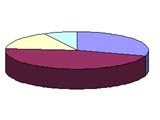 The inquiry revealed that the majority of the respondents (74.4%) would give their to Ilham Aliyev, current Azerbaijani President, if the elections were held in the nearest Sunday, while Isa Gambar collected the support of 5.1% of respondents, Lala Hajiyeva – 3.1%, Ali Karimov – 1.7%, Etibar Mammadov – 1.3%, Rasul Guliyev – 1.1%, Ilyas Ismayilov – 0.9%, Ayaz Mutallibov and Isgandar Hamidov – 0.4%.
In reply to question «Which party would you support in the parliamentary elections if the parliamentary elections would be held in the nearest Sunday?» 43.7% of the inquired stated their support to the ruling New Azerbaijan Party, 10.3% - independent candidates, 8.1% - Azadlyg bloc, 1.3% - backed YeS (New Policy) bloc.
The inquiry revealed that 88.8% of respondents refuse from the participation in the protest actions organized by the opposition in connection with the elections.
Major part of respondents (87.9%), who participated in the social inquiry were independent. 9.4% of the required were representatives from the ruling party NAP, 1.0% - members of Musavat, 0.7% - members of the PFAP, 0.4% - the ANIP, 0.3% - ADP, 0.2% - Ana Veten. 33.8% of respondents are sure that the forthcoming parliamentary elections in the country will be democratic, while 32.2% state the elections will be falsified, 34.0% - find it difficult to answer the question.