Next meeting between the foreign affairs ministers of Azerbaijan and Armenia will be held on August 22.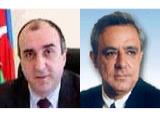 This was informed to the journalists by the foreign affairs minister of Azerbaijan Elmar Mammadyarov.
According to his words, he has agreed to meet with his Armenian colleague Vardan Oskanyan on August 22 during the talks with the co-chairmen of the OSCE Minks Group in Baku.
"If official Yerevan agrees to this date, then the meeting will be realized. Agreed elements to be put into discussion of the presidents will be discussed in the meeting. Ilham Aliyev's meeting with Robert Kocharyan will be realized in the frame of the CIS summit to be held in Kazan city on August 26".
It should be noted that the Russian co-chairman of the OSCE Minsk Group informed in his explanation to APA that full agreement was reached on one element and partial agreement on other element in the talk's process.
According to the information given to APA from the diplomatic sources yesterday, the Russian co-chairman of the OSCE Minsk Group Yuri Merzlyakov when saying "Full consent was achieved on one element in the talks on regulating the Nagorno Karabakh conflict", he has considered that the sides reached full agreement in the question of returning five regions to Azerbaijan.