«Our greatest desire is to give the Trade Chamber of the Northern Cyprus in Azerbaijan the status of the "representation office of the Cypriot people", head of the representation office Mustafa Evran made such a statement on 15 July in his exclusive interview to Trend.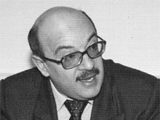 According to Evran, the representation of Cyprus has been registered in Azerbaijan not as the diplomatic mission, but as the trading company, which involves direct auditing control.
«We are grateful to the Azerbaijani side even for this opportunity, however we have no diplomatic status. The representation status as the Trade Chamber of the Northern Cyprus causes certain difficulties, Evran said.
He noted that the representation office has not been registered in the state diplomatic register, and therefore, the representatives of the Northern Cyprus are not invited to any official events. "Foreign diplomatic missions do not contact with us, as we are not included in the annual Foreign Ministry catalogue ', the head of the representation underlined.
In conclusion, Evran reminded, that representation offices of the Northern Cyprus have been operating in the USA, United Kingdom and Pakistan for a long time, but not under the status of a commercial company.