"Armenia is not in transport blockade," Musa Panahov, the Deputy Azerbaijani Transport Minister, told Trend on Thursday.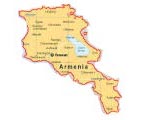 "Unless Armenia was in blockade, it would be unable to receive cargo. Armenia receives necessary cargo via Georgia and Iran. So, Armenia's claims on its location in the transport blockade do not meet the reality," he noted.
As to the Sukhumi-Tbilisi-Yerevan route, it is only an idea. "This is not the first year it is put forward, while the project  remains to an idea in connection with the unsettlement of political problems," the Deputy Minister underlined.
Panahov regarded the project as non-perspective, as the Sukhumi-Tbilisi-Yerevan route was used during the Soviet period for the passenger transportation. "However, the profile of routes did not allow delivering goods via the route, which makes it unattractive," he underlined.