(ITAR-TASS) – Vladimir Putin, the President of Russia, who was in working visit in Astrakhan province, arrived at the flagship of the Caspian fleet 'Tatarstan', to attend an international conference on safety in the Caspian Sea.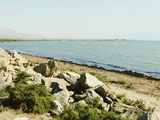 According to the commander of the Caspian fleet, vice-admiral Yuriy Startsev, the international conference, dedicated to the safety of the Caspian Sea, aims at the establishment of the operative-tactical group of the ships of the Caspian-littoral countries like 'Blackseaforce' organization  to struggle with terrorism, drug trafficking and biologic terrorism.
He said that almost all Caspian-littoral countries approved this idea. The forum is centered on a struggle against terrorism.
"The resolution of the problem is possible through the consolidation of Caspian littoral countries' efforts. So, the cooperation in the Caspian Sea is very actual and will allow to give urgent reply to dangers," he underlined.