"The pre-elections situation is more difficult in the regions than in Baku.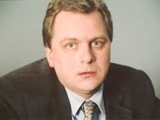 The population is even afraid to participate in "exit-poll". People think that it will be known whom they voted during an inquiry and this will cost them dear then".
This explanation was given by the co-rapporteur on Azerbaijan of the Monitoring Committee of the Parliamentary Assembly of the Council of Europe Andres Herkel. He stated the importance of eliminating the fear in the society.
"The fear in the society must be eliminated. But it is difficult to do it in the place where there is a problem of political prisoners. We discussed this problem with the head of the executive office of the president after the visit to the regions, and presented definite examples obtained by us in the regions to him".
Andres Herkel considered important to change the composition of the election commissions in order to hold democratic, free and transparent parliamentary elections. Otherwise, he informed that he does not believe that the elections will be held democratic. The European parliamentarian expressing his displeasure on Public Television's not starting its activity till now in Azerbaijan called this a "strange game".
"I consider that if there is a wish, even though the public television starts working in August, it can make necessary gift to the election campaign".
/APA/