President Ilham Aliyev yesterday received special representative of President of Islamic Republic of Iran on Caspian matter, Deputy Foreign Minister Mehdi Safari.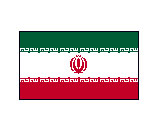 APA was informed from President's Press Service. The visitor told Ilham Aliyev that, the economic projects on energy and other fields reflected in the documents signed by President Muhammed Khatami as well as the projects related to Nakhchivan Autonomous Republic are implemented successfully.
M.Safari expressed his satisfaction to the head of state for his congratulation to the newly elected President of Iran; he has presented Mahmud Ahmadinejad's respond to President Ilham Aliyev.
The guest stated that the newly elected president of Iran is in the power of further developing friendly and fraternal relations between Azerbaijan and Iran.
I.Aliyev expressed his confidence that, the cooperation between our countries will further develop successfully and that, the economic contracts signed between Azerbaijan and Iran are implemented successfully. President expressed his satisfaction on the implementation of the projects related to energy, road building, as well as related to Nakhchivan.
Head of state expressed his confidence on further successful development of the relations between Azerbaijan and Iran.