The mass rally of the Azadlyg (liberty) opposition bloc on 18th of June lasted two hours and ended at 7:00 pm, without any incident.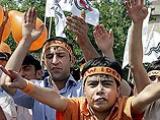 The event, authorized by the Baku City Executive Power, was a success, as opposition claimed.
Addressing the audience of thousands of protestors, the chairman of the Popular Front Party of Azerbaijan (reformist wing), who was an apparent leader among deputy chairmen Arif hajili of Mussavata and Sardar Jalaloghlu of the Azerbaijan Democratic Party, demanded from the ruling authorities to set up appropriate conditions for free and democratic elections, as well as to exert every possible effort to stop rampant corruption and bribery, etc.
 At the end of the meeting, the organizers and protestors have agreed at length on a resolution that included the following requirements to the ruling authorities:
- approve immediately proposals by the opposition on making changes in the existing Electoral Code;
- form the membership composition of election commissions on a parity basis;
- create equal conditions for all, willing to be nominated as candidates;
- create conditions for ADP chairman Rasul Guliyev's (he has been living in self-exile in the United States since late 1990s – Ed.) participation in elections;
- free the arrested opposition leaders.
The protesters also demanded the arrest of people who are behind the murder of Elmar Husseinov, the late editor-in-chief of the Monitor weekly magazine, which was openly critical of the authorities in Azerbaijan.
The opposition claimed that up to 10,000 people joined the rally to raise their protest of the Government's policies.
For his part, Chingiz Mammadov, the deputy chief of the Yassamal Police Department – the rally was held at Galaba Square, which is in Baku's Yassamal District – relied on opther estimates and tried to substantiate his viewpoint. He told Trend that the square occupies the area of 3,000 sq. m, and given a free assembly of two people in the space of a square meter, the total number of protesters could not overpass 6,000. In the past, such figures had much broader amplitude of divergence, even expressed by two-digit numbers.