An Azeri-Armenian war may start any day, President Ilkham Aliev of Azerbaijan said to newsmen.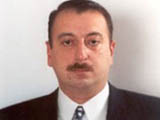 "A war can break off any instant as there is no peace agreement between us. There is only a ceasefire, and ceasefire is a very ticklish matter. There are violations of the arrangement. They run counter to our interests, as you all know-the achievements we have made do not force us to break the ceasefire." (RIA "Novosti")
As President Aliev emphasized, Azerbaijan is anxious to see the Azeri-Armenian issue and the Karabakh conflict peacefully settled.
"We want a peaceful way out of the conflict under the impact of the world public, and with the Armenian top to take a correct stance on the issue. If it does not, things will certainly change. We shall talk on the matter later on."