The protocol about cooperation in the area of defense of borders between Kazakhstan and Azerbaijan was signed 15 March, in Baku, informs agency "Trend".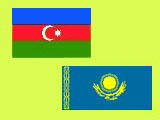 The document on results of negotiations was signed by the director of Emigration service of the Committee of national security of Kazakhstan Bolat Zakiyev and the chairman of State Emigration service (SES) of Azerbaijan Elchin Guliyev.
At the meeting the parties discussed the issues of further development of cooperation and also preparation of the draft of agreement about cooperation in the area of prevention of illegal activity in Caspian Sea.
As a result of negotiations E.Guliyev stated, newly acquired technical means by SES will allow increasing the control at Azerbaijan sector waters of Caspian Sea in the nearest future. "While signing protocol with emigration troops of Kazakhstan, we shall fortify our mutual relations to greater extent. If some ship sails from Azerbaijan to Kazakhstan, then we shall notify them and Kazakhstan emigration troops stopping violator, will undertake corresponding measures", - said E.Guliyev and added, adequate measures would be undertaken by Azerbaijan party too.
B.Zakiyev underlined, parties, "not dividing Caspian sea by some sectors, lines etc.", intend jointly acting in the fight against such occasions, as illegal migration, smuggling, possible activity of international terrorist groups, protection of bio-resources.