Divisions of Armed Forces of Armenia fired the positions of Armed Forces of Azerbaijan located in the territory of Gizil Hajili village of Gazakh region from their positions located in1.5 km to the east of Berkaber village of Ichevan region and 2 km to the north-east of occupied Kheyrimli village of Gazakh region and Mazamli village with submachine and machine guns at 23.50-00.15 on March 14.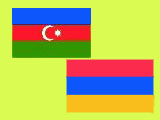 APA was informed of it from press service of Defense Ministry.
The enemy was resisted by fire, no loss of life, was informed from the press service.