Discussions of Nagorno-Karabakh conflict are to be held 17-18 March in Brussels. The member of the parliament delegation of Azerbaijan to PACE Elmar Ibrahimov informed agency Trend.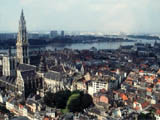 He said, invitation proceeded from special representative of PA of OSCE.  Nagorno-Karabakh report prepared by Goran Lenmarker in Brussels is to be discussed with participation of parliamentarians of Azerbaijan and Armenia.
"PACE acknowledged Armenia, as the country-occupant. The corresponding resolution was adopted, whereas military formations in Nagorno-Karabakh are under observation of separatist regime. We shall also try this to be reflected in report of G.Lenmarker. We shall demand this. After reflection of these thoughts in the report at annual OSCE session, to be held in Washington in July, this will facilitate adoption of resolution, stating Armenia as a country- occupant", - said E.Ibrahimov.