"Placing of peacekeeping forces in the conflict zone would serve the problem's freezing, not its solving. Azerbaijan is interested in resolution of the Nagorno-Karabakh conflict, not freezing,"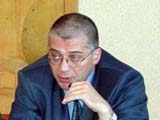 This was said by Deputy Foreign Minister of Azerbaijan Araz Azimov on press conference.
He noted there was no need for peacekeepers, as the ceasefire regime has not been seriously violated since 1994. The issue, according to him, was considered as early as 1994 at the OSCE Budapest summit.
"The peacekeeping forces may be placed there after the territories are released," Mr. Azimov added.