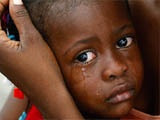 Ten days after the massive earthquake in Haiti, some 80,000 of the estimated 200,000 dead have been buried, two million residents now find themselves homeless, and hundreds of thousands of them are now trying to flee the capital city.
Rescue crews are beginning to abandon hope of finding any further survivors in the rubble - the last person to be pulled out alive was rescued on Wednesday, the 20th.
Aid agencies are still ramping up their efforts - the Red Cross alone has deployed what it calls its greatest deployment of emergency responders in its 91-year history.
Collected here are some closer looks into recent events in Haiti, seen through the faces of the survivors and the recently-arrived security, rescue and care workers
Click to enlarge:
Photos by Boston Pictures