The first decade of the 21st century has been left behind.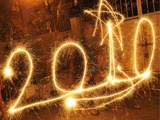 People around the world, gathering in groups, welcomed arrival of 2010. In the moonlight, under the New Year trees the crowd watched the fireworks, sang, danced and counted down the last seconds before midnight.
2010 is the Year of the Tiger in the Chinese zodiac, which means a year of courage and bravery.
We offer our readers photos of New Year celebration all over the earth.
Click to enlarge:
Photos by Boston Pictures