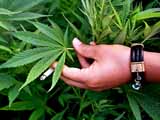 A Bossier Parish sheriff's spokesman said a man was booked with resisting an officer for allegedly eating marijuana after a deputy stopped his car for a loud exhaust. Sheriff's spokesman Ed Baswell said a 24-year-old man seemed nervous when he was stopped late Tuesday.
Baswell said the deputy smelled marijuana, searched the suspect's car and found two bags holding a total of two grams of marijuana. That's less than one-tenth of an ounce.
Braswell said that the suspect apparently put an unknown amount of marijuana into his mouth just after he was stopped. The deputy saw marijuana on his lips, and found that he had some in his mouth.
Baswell said the man also was booked with second-offense marijuana possession and having a modified exhaust.
/CBS News/