Peers are calling on the Government to ban Chinese paper lanterns, because of a risk to cows, sheep and other livestock.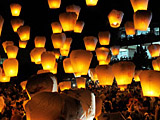 Sales of Chinese lanterns have increased dramatically in the last two years. The House of Lords called for an end to their use following concerns expressed by the National Farmers' Union.
The large paper lanterns, each containing a candle and made of paper and a wire frame, are often released into the air to mark weddings, birthdays or other celebrations.
They can drift for several miles and land in rural fields.
Baroness Janet Fookes says the pretty decorations pose a danger to animals.
A cow died recently after eating a piece of a lantern's wire frame, which ruptured its stomach.
The lanterns have also caused the death of a foal, which was put down after injuring itself on a fence after being spooked by the mysterious floating light.
As well as raising concern for animal welfare, the lanterns are frequently mistaken for UFOs as they drift across towns and cities.
Rural affairs minister Bryan Davies has urged manufacturers to make the lanterns biodegradable.
They have been banned in parts of China after being deemed a fire hazard, as well as causing delays to dozens of flights.
/Sky News/