Man Who Called Police to complain arrested after being found with machete, 20 other knives.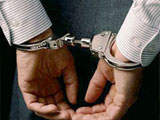 Austin police say a man who called 911 to complain about alleged bank fraud was arrested when he was found with a machete and 20 other knives or blades. Douglas Dockery, 50, was jailed Monday on charges of unlawful carrying of a weapon, plus having prohibited weapons such as a switchblade or knuckles.
Police documents indicate Dockery also was held on a warrant out of Bexar (bayr) County. Travis County electronic jail records provided no further details on that case or listed an attorney for Dockery, whose bail was $14,000.
Police said Dockery was arrested Saturday night outside a convenience store. The machete, with a 16-inch blade, was fastened to Dockery's right leg.
/CBS News/