Bruce Snowdon, the last of the professional circus sideshow fat men, was honored in a memorial service this weekend.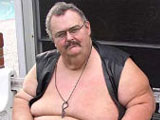 Snowdon, who at his heaviest was billed at 712 pounds (but actually weighed about 607 pounds), worked the sideshow circuit from 1977 to 2003, working the midway as "Harold Huge."
At one time, hundreds of sideshows traveled the country, but by the 1960s, they were in decline. And with obesity on the rise, it just became less fun to see a shirtless, man who weighs a quarter of a ton, jiggling his rolls of loveliness on stage. My buddy Marc Hartzman wrote a wonderful rememberence of Snowdon.
Snowdon's biggest appearance came at the end of his career, when he appeared in the 2003 Tim Burton film, "Big Fish."
Marc writes that Bruce passed on to the great Big Top in the sky back in November, but for some reason even the people close to him didn't find out about it until mid January. Now, those closest to him have remembered him in a memorial service.
/About.com/