Cheryl Cole, Dita Von Teese and President Barack Obama have all been churned into amazing cheese sculptures.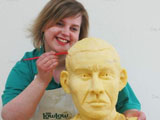 It's all the work of cheese-lover Prudence Staite, who has a huge appetite for turning everyday food into stunning works of art.
Her past work includes replicas of famous paintings made entirely from jelly beans, busts of famous people, famous faces immortalised on pizzas and even life-size chocolate rooms, with solid chocolate fireplaces.
But she's hungry for more food-based whittling. Lots more!
Prudence puts the finishing touches to 'Cheddar Cole' Prudence puts the finishing touches to 'Cheddar Cole'
For her latest mouthwatering artwork Ms Staite turned to LowLow mature cheese, which is apparently ideal for sculpting.
She says: 'Despite loving a good cheeseboard, I've never worked with cheese, but LowLow lends itself fantastically well to being modelled and shaped.
'I have always thought that aspects of celebrity culture are incredibly cheesy but I'm hoping these beautiful slim line women will appreciate being made from a lower fat cheese; they certainly all have good taste in common!
'From "Dita von Cheese", to "Chedda Cole", these celebrities embody part of our celebrity culture today. "Low-bama" himself is not averse to tapping into our love of celebrity and the bust I've created communicates his serious and fun, light-hearted nature.'
The cheese sculptures are on display at the Kings Road Gallery in Chelsea, London.
/Metro.co.uk/
Click to enlarge: