Peru may well hold the world record for "youngest mother," but China is definitely in the running as a nine-year old in northeast China has given birth to a healthy child.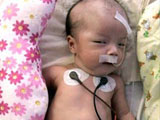 Naturally, the parent's have sought out legal help, as sex with a child under the age of fourteen brings with it an automatic rape conviction. According to hospital statistics, however, young girls not just becoming pregnant but seeking abortions is more common than you might think.
A report from a hospital in Shanghai revealed that approximately 30% of surgical abortions on young children in China were performed on individuals still in school. A hospital owned and operated by the People's Liberation Army also revealed that 50% of these abortion were performed on women in either college or vocational schools.
The baby was delivered via cesarean section on January 27th at around noon, and weighed in at 2.75kg. According to reporters, the admission of the young girl to the hospital was a fairly taboo subject, and hospital staff were reluctant to discuss the matter. The reporter eventually learned from a registration form the girl's name, and a nurse eventually revealed that the girl's family is from Songyuan, and the circumstances surrounding her pregnancy were unknown.
Despite the young age of the mother and the potential for severe complications, it has been reported that the mother and her new baby are doing fine at Changchun hospital, which is located in the Jilin province.
/Weird Asia News/