As a man in the Wuxi province of China learned, if you're going to hang an IV bag from your rear view mirror, it might be a good idea to disguise it as an air freshener.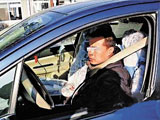 Driving down the highway with an IV firmly implanted into his vein, the man was eventually pulled over for speeding. Upon reaching the driver's window, the officer noticed the IV hanging from the rear view mirror and the tube coiling around his arm and down to his right hand.
When asked why he had administered himself an IV whilst cruising down the highway, the man explained that he had done this before without prior incident and that the reason for his speeding was simply an "urgent matter." When asked to remove the IV, the man appeared fairly reluctant to do so.
The police officer in question was shocked to be involved in such as odd situation, stating that in his twenty years of being a police officer he had never seen anything like it. When the confusion settled, the officer gave the man a ticket for speeding amounting to 200 yuan, or approximately $28.
/Weird Asia News/