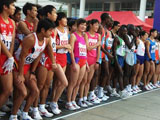 More than 30 of the top 100 finishers in this month's Xiamen International Marathon have been disqualified for cheating.
The sports authorities for the city in southeastern Fujian province said the competitors were caught after a scan of video footage of the race.
Methods of cheating snagged included hiring impostors to take their place, jumping into a car for part of the route and giving their race-time sensors to faster runners.
Runners 8892 and 8897 initially scored good times, for example, but later it emerged that runner 8900 had carried both their sensors over the finishing line.
The Fujian sports bureau said most of the runners involved had apologised, but warned that those with an 'uncooperative attitude' would be banned from future races.
Authorities believe many of the cheats were trying to boost their grades in the gaokao, China's highly competitive university entrance exams. Participants who finished the 26 mile race in under two hours and 34 minutes got two points added to their score.
Organisers, who describe the race as one of the two most prestigious marathons in China, have defended their performance in preventing cheating. They say they had only 200 monitors to watch 50,000 runners, and have vowed to increase surveillance at next year's race. Ahead of the contest, they proudly boasted of plans to line the scenic race route with 150,000 flower pots.
Students' desperation to score well in the gaokao has led to some other hi-tech cheating methods, with 40 students detained after last year's exams. In one case in northern Shanxi province, six people including a teacher were accused of selling receivers to students so they could be fed the answers during the tests.
/Weird Asia News/