Anybody want to share a bottle of red? A group of Chinese winemakers have claimed the new world record for the world's biggest ever bottle of wine.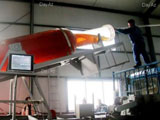 Record wine bottle A lot of bottle: the record wine bottle contains 1,850 litres of booze
The 15ft high bottle contains an astonishing 1,850 litres of wine, produced by Wang Chen Wines in Liaoning, northern China. 
That's over three times the amount held by the previous record-holders, Austrian winemakers Kracher, whose bottle held 490 litres of Grande Cuvee TBA NV No.7 2005.
'We are very proud, and the wine is very good. We have all had a glass from the bottle to celebrate,' said a company spokesman.
/Metro.co.uk/
Click picture to enlarge: