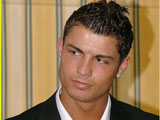 The world's first engine-driven "free kick" machine has been unveiled in Japan.
It can smash a football at speeds of over a hundred miles an hour - faster than Portugese footballer superstar Cristiano Ronaldo.
Castrol, makers of the motorised behemoth, claim they were inspired to create the machine by the Real Madrid star.
Charles Charles Postles, chairman of BP Castrol Japan, said: "Cristiano Ronaldo kicks at about 130 kilometres per hour and this machine manages to get up over 200 kilometres per hour, so a new world record."
The machine will be at sporting events across Japan for demonstrations this year in the run-up to the World Cup in South Africa.
But it won't be used to train actual football players for safety reasons.
/Sky News/