It's not every day you see a sculpture of a man with his head stuck up a cow's bottom along the roadside - but that's just what you'll get in Cumnock, Australia, thanks to the longest sculpture installation in the world.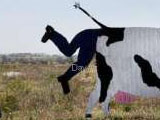 The unfortunate cow-bum-head man is just one of 45 different artworks that make up the 'Animals On Bikes' Paddock Art sculpture trail, which runs for over 74 miles (120km) through rural New South Wales, through such wonderfully named places as Molong, Cumnock, Yeoval and Dubbo.
The artworks are the brainchild of locals Debbie Blatch and Christine Weston, originally inspired by the idea of creating 'a visual fantasy for the children' - but now designed to be enjoyed by tourists on bikes, in cars and buses, motorbikes or caravans.
On their website, they explain that the sculptures are created by 'local farmers, farmer's wives, Men's sheds, sculptors, preschool kids, playgroup mums - anyone with an artistic flair!'
/Metro.co.uk/
Click to enlarge: