Police in Michigan say a dispute between two sisters turned into a Mike Tyson title fight... no one lost an ear, but 27-year-old Bobbie J. Smith is accused of chomping off her sister's nose.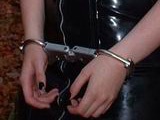 Prosecutors say a third of Sandra Smith's nose was bitten off in the attack. It's unknown if it can be reattached.
Bobbie says she was drunk and acted in self-defense, turning on the teeth after her sister punched her. She's also accused of kicking a police offer and throwing a fit in the back of the police cruiser, damaging the partition.
You can see her now in the Weird Crime Mug Shot Hall of Shame. Just don't get too close.
"I love my sister... I was trying to take care of her," Smith told Jackson County District Judge James Justin, according to MLive.com.
/About.com/