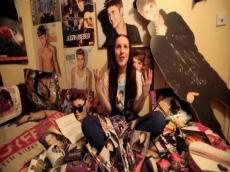 Gabrielle Newton-Bieber is possibly the world's biggest Justin Bieber fan – she has five Bieber-tattoos, a wardrobe filled with Bieber clothes, and all of his records and merchandise. She also likes to pretend that she's married to the Canadian singer so she has legally taken his last name and sleeps with a life-size Bieber cardboard cutout.
"I always call Justin my husband when I talk to people," the 22-year-old supermarket worker said. "I say 'I've got to go, my husband is just on the TV. They find it a bit weird because we're not really married – if only we were. Just maybe, one day."
Gabrielle has been obsessed with Justin Bieber since the very beginning, when his debut single 'One Time' released in 2009. "Justin released his first single 'One Time' when I was aged 16 and straight away I was obsessed," the young woman said. "He was so cute with his floppy hair and riding his skateboard. I fell for him instantly. He makes us all so happy – Justin Bieber is my world."
In fact, Gabrielle is so faithful to Bieber that she's never dated anyone else. "I think Justin Bieber is the only man for me," she said. "I wouldn't literally go out with anybody else except Bieber unless he had an identical twin or lookalike. I like him even more now than I did as a teenager. He has got very sexy with age – such great abs."
Gabrielle believes that Bieber's "sexiest moment" was when he appeared in a Calvin Klien ad wearing nothing but boxers. "I wouldn't change anything about him," she added. "He has made mistakes and I think he needs to learn from them and I wouldn't copy his bad boy antics but I wouldn't want to change him."
It looks like Gabrielle doesn't intend to forget Bieber in this lifetime – she's got five permanent tattoos representing her obsession. She has 'Bieber' tattooed on one side of her ribs and 'Believe' on the other. 'Belieber' is inscribed underneath one of her breasts, while a drawing of the key he wears around his neck is inked on her shoulder with 'Never Say Never' written below it.
"Next year I plan to get 'Purpose' tattooed under the other breast, but I wouldn't go as far as getting his face tattooed on me unless it was somewhere like on my bum," she admitted.
The name change was a birthday present from her mother, who was initially against the idea. "My mum was like 'no way' and told me to wait for a few years before changing it," Gabrielle said. But she begged so much that her mother eventually relented and ended up paying for the entire process.
But the one thing that cements Gabrielle's love for Bieber is the fact that keeps a life size cardboard cutout of Bieber in her room. She admits to talking to it, and even sleeping with it at times. "I just tried it out once just to see what it was like but it would have been better if it was the real thing," she said. "Sometimes I will talk to him and ask him to move if he is in the way, but I haven't had dinner with him or anything like that yet – perhaps I will bring him down so he can have Christmas dinner with us this year."
Gabrielle admitted that she went public with her Bieber obsession in the hope that she might get the chance to meet him in person. "I've had a lot of dreams about him and about what I would do if I met him for real, one dream he'd get me on stage and sing 'One Left Lonely Girl' to me and then I'd get to meet him backstage afterwards. It would be so cool if I was his 'One Left Lonely Girl.'"
"But honestly, if I met him, I would probably just burst into tears. "
"To meet him would literally mean the world to me, it is my dream." Gabrielle said. "I want to thank him for all he has done for the Beliebers. "Whenever anything bad happens in the life or anyone gives me stick for anything, I just think to myself, what would JustinBieber do? Then I shrug it off."