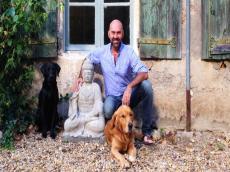 Gerad Kite used to spend his lunch hour walking along London's Marylebone Road breathing in the traffic fumes. Now, more often than not, the acupuncturist can be found sitting in the garden of his 17th century home in Southwest France, taking a leisurely lunch or working on his new book.
Kite hasn't given up his career. Rather, he is one of a growing number of super-commuters – people who travel 145 km (90 miles) or more each way to their place of work. Many swap the daily commute for weekly or fortnightly travel and say their faraway homes give them a lifestyle not achievable within a shorter commute.
Every two weeks Kite flies 965 km (600 miles) to London from his local airport, cramming in two weeks' worth of client treatments into several days. He rents a room near his work when he's in town.
His income declined when he made the switch to super-commuting, but Kite said his travel expenses are low and the cost of living in France is much lower than in London — to the point he's been able to pay off his debts.
"It's a better lifestyle," Kite said.
Experts who study commuting estimate there could be hundreds of thousands of super-commuters worldwide, made possible in large part because of technological advances and the proliferation of low-cost airlines. Combined, these make it cheaper and easier for employees to work and commute from remote locations.
For instance, across Europe, low-cost airlines Easyjet and Ryanair now offer over 1,000 routes between them, with the cost of return flights between European destinations sometimes as low as 40 euros ($50), about the same price as a weekly travel pass on London's underground train network. In fact, a growing number of Easyjet's 12 million annual business travellers are super-commuters, according to the airline.
Between 2002 and 2009, the most up-to-date data available, New York University's Rudin Center for Transportation found that the number of super-commuters in Houston doubled to 251,200, accounting for 13.2% of the local workforce. In Manhattan, the group grew by 60% to 59,000, with Philadelphia – 161 km (100 miles) away from the city centre – the biggest source of the city's long-distance workers.
But super-commuting is much broader than such relatively short-distance trips. London's Metropolitan Police once had a police officer who commuted from New Zealand – 19,312 km (12,000 miles) away – working two months on and two months off. It is estimated that around 300,000 Lebanese travel three hours by plane to work in the Persian Gulf, often in the oil industry, yet maintain residency in Lebanon. Less extreme: the 322 km (200 miles) roundtrip from Tucson to Phoenix, the most popular super-commute in the United States, counting almost 55,000 workers who work in a range of industries, according to the Rudin Center research.
David Furlong, a 52-year-old financier, recently purchased a property in the south of France and commutes weekly to the City of London, a move made possible because his employer allows him to work one day per week from home.
He's in London Monday through Thursday, and works from his home office on Friday. It costs him more to maintain two homes, but the trade-off is long weekends in the sun and a calmer home environment. That's one reason higher costs, or a loss of income, are worth it to some people who want a more peaceful life at home.
Furlong said he had a "wake-up call" after several friends and colleagues passed away at an early age, he believes partly as a result of over-work.
"At that point, I told myself I had to change something. It was about finding balance in my life," he said.
When work beckons
One New York City super-commuter is the husband of Megan Bearce, author of Super Commuter Couples: Staying Together When a Job Keeps You Apart. Just six months after the family relocated to Minneapolis, Bearce's husband was offered his dream job in New York, more than 1,600 km (1,000 miles) away.
The couple decided to give it a try, and four years later they have not looked back.
"It's actually been really great," Bearce said, although she advises would-be commuters to "weigh what it is costing you financially and emotionally."
Long-distance commuting can mean greater expenses, for instance, but "if you are going to New York, for example, the salary increase may offset the higher cost", she said.
Not everyone who opts to super-commute does so out of choice, according to Bearce. In the US, after the financial crisis it was difficult, if not impossible, to sell homes in some areas of the country and the job market was extremely tight. People had to look further away for work, but were unable to move, she said. The same has been true outside the US, too.
Eudald Ayats, a 35-year-old chemical engineer, lives in Barcelona, Spain where the economy is still suffering after a long recession. So, when he received a good job offer in Brussels, a two-hour trip by plane, he negotiated commuting and housing costs with his employer and now commutes weekly between the two cities. This decision means he can continue living with his partner, who remains in Barcelona.
"We have a better financial situation, and we both have jobs we love," he said. "Work-life balance has shifted to two extremes [for me]. Monday to Friday morning is full work-mode, usually meaning long work hours, while Friday evening to Sunday is full family-mode, where working is forbidden with very rare exceptions."
Proceed with care
Whatever the motivation for super-commuting, those who have done it advise caution.
"Have a Plan B if after six months it's not worth it," Bearce said. And, Kite's advice is to test the super-commute lifestyle before you leap. "Experiment first and then do it," he said.
Terrence Karner, a 43-year-old consultant with advisory firm Deloitte in Chicago, is in the middle of a six-month placement with his firm's New York office to pursue better opportunities. He commutes weekly from Chicago and, while the work is stimulating, he's sensitive to the pressures the long-distance commute puts on his wife.
"It is very, very important to be respectful of your spouse's time commitments when you're not there." he said. "When I'm not at my house, I know that my wife is very busy with the kids and the house."
Early on, Karner said he felt lonely during the week and it was hard to resist picking up the phone to call frequently — and harder still to hear his wife say she was too busy to talk.
Even so, the trade-off has been worth it, he said.
"It was outside of the comfort zone for me and my family," Karner said, but the increased opportunities he's had in New York have been a big benefit. "It's probably a cliche to say it, but the world economy demands it."