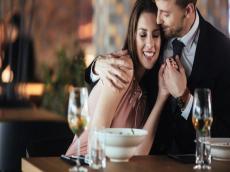 The other day, a seemingly nice and normal boy asked me on a date. After I accepted, he said, "What do you want to do?"
"I want to go get some prime rib," I answered honestly.
"You do know that there are things to do other than dinner, right?"
And this is when I lost my sh*t.
I feel like a switch has flipped in our culture. Over the past decade or two, guys have been presented with with all sorts of magazine articles and books and TV shows that try to convince them they should treat a girl to something "better" than dinner and drinks.
Flip on the TV, and you'll find a young, cool girl complaining about the "boring" dinner date she had. Open your favorite magazine to find a list of date options that are so much BETTER than dinner.
In order to show true interest, people feel like they have to suggest absurd things — like a run or a hike or even a joint SoulCycle class.
Like, um, I'm sorry, but are you f*cking kidding me!?
I hate exercising by myself. So why in God's name would I want to exercise with you — a virtual stranger who I may or may not be porking at some point in the near future (I'm thinking "NOT" after you suggested these bullsh*t ideas).
And while we're at it, let's just go ahead and cross off pottery class, bungee jumping or any other weird sh*t you may have in mind for the two of us.
It's as if suddenly doing everything BUT going out for a nice, simple dinner and drinks has become the goal. And I'm left feeling like a boring loser for actually liking a good old-fashioned dinner date.
I wanted to scream in that guy's face, "Yes. I understand that there are things to do other than dinner, you condescending prick. But did it ever occur to you that maybe — just maybe — I actually LIKE getting dinner?! Maybe getting a nice hunk of prime rib with a Moscow Mule (or seven) is exactly what I want. STOP SHAMING ME FOR IT."
Call me old-fashioned. Call me boring. Call me a c*nt, for all I care. I just really enjoy eating dinner, and the only thing I possibly enjoy more than that is drinking. So yes, going for dinner and drinks IS my ideal date.
I'm sorry that dinner and drinks are too "popular" or "mainstream" for you, but did it ever occur to you that maybe there is a REASON for this?
I want to make sure we have a real connection.
I want to know we can sit across the table from each other for an extended period of time with no choice but to communicate (without me wanting to punch you in the face). And dinner is the best arena for this experiment.
When I was brainstorming this article with my coworkers this morning, someone asked, "But how do we make dinner more interesting?"
That's the whole point here. In order to make dinner interesting, your only option is to actually be interesting and, more importantly, interested in your partner. There are no art projects or exercise routines set to blaring dubstep music to distract you from getting to know each other.
---
I want access to alcohol.
I'll be honest here: If you are boring me to death, I am going to want a drink.
What the f*ck would I do if you were boring me on our hike? Jump? I don't want to LITERALLY be bored to death here.
Besides that, first dates are awkward. I don't think having a few drinks to loosen us both up is such a bad thing at all.
---
I want to get a feel for who you really are.
You get to know a lot about a person's character at dinner.
First and foremost, the uninterrupted conversation is the best gateway into his personality. But even beyond that, there are so many opportunities during the dinner experience that tell me what sort of a guy you are.
What did you order? How do you treat the waitstaff? How do you react when I make an attempt to pay? Do you hold doors open? How about my chair — will you pull it out?
By the same token, I want you to get a feel for who I really am, too.
When I eat, it's not pretty. I do not order pretty things, and I do not use pretty table manners. I will absolutely be ordering a giant hunk of meat and devouring it while I try to make conversation with a full mouth.
A guy deserves to know what he's getting himself into (literally… hah) before he starts taking me to meet Mom and Dad.
---
I want to make sure we have common interests.
The bottom line is this: I love food, and I love drinking. They are two things that I am really, truly passionate about. If you can't go to a delicious restaurant and genuinely enjoy it with every fiber of your being, we probably don't have much of a future between us.
My other interests include shopping, mercilessly gossiping about virtual celebrities with my friends and having Mafia movie marathons (we start with New York/Las Vegas Italian and move on to Boston Irish) in my footie pajamas.
I have a feeling you have no interest in doing any of those things with me, so how about you just indulge me in my most socially acceptable interest?