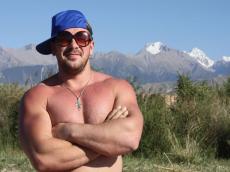 Lots of mountain climbers have scaled Mount Elbrus – Europe's highest peak (5642 m) – but no one has quite managed to do it like Russian powerlifter Andrey Rodichev. He recently became the first person in the world the climb the mountain while carrying a 75-kg barbell on his back!
That's a decent load for most people to lift even at the gym, but Rodichev managed it in the most grueling of conditions. What he's essentially done is combine two very different sports – trekking, which requires amazing endurance, and powerlifting, which requires short bursts of pure muscle power. While the former requires lighter body weight, the latter demands that athletes bulk up. By fusing the two, Rodichev managed to set a new athletic standard.  
In order to prepare himself for the arduous trek, he trained twice a day, seven days a week. Every morning he would run on the streets for an hour and a half with an additional weight of 10 kg. In the evening, he would work out at the gym. He lost about 20 kg of bodyweight to reach the ideal weight for the challenge.
Although the trek up Mount Elbrus is relatively easy for mountain climbers, the additional 75 kg posed huge challenges. Most hikers carry backpacks that weigh about 25 to 30 kg, but they usually leave most of their gear at the bottom before beginning the final ascent for Mount Elbrus. The outcome of Rodichev's attempt was unpredictable, but he was determined to achieve his goal – to raise awareness about powerlifting in his hometown, Murmansk.
"The federation has no professional equipment for competition and training," he told the media. "A professional 480 kg. barbell cost 500,000 rubles ($7,650), but the city and regional administration has no money, ever. I want to do this to draw attention to the Powerlifting Federation in Murmansk region."
When the time finally came for him to begin the journey, he attached the bar to his back using specially designed straps. The bar itself weighed 20 kg and was loaded with two discs of 25 kg discs. It was undoubtedly an excruciating trek – he moved at an average speed of 50 meters per hour, and in some areas even dropped to 15 meters per hour. The last two days saw terrible weather conditions, but he finally managed to reach the summit on September 6, in eight days flat. He was accompanied throughout by professional instructor and climber Alexander Sukharev.
Rodichev is now regarded a hero, and rightly so. The bar he carried has been installed at the top of Mount Elbrus, as a monument to his incredible feat. The entire journey was also filmed on video, and the footage will soon be used to make a documentary. For now, Rodichev is looking for someone who will attempt to break his record – he's promised to assist anyone willing to do so.