Tens of thousands of people go missing in Europe every year. Some for days, some for months, some for years. Some vanish entirely. This is the story of one of them - and the extraordinary response his disappearance generated.
It is every parent's worst nightmare - that their child leaves home and comes to harm.
This is what happened to Pablo Egiluz, whose son Hodei disappeared on a night out in Antwerp.
A massive campaign was launched to find him yet nearly two years on no-one even knows whether he's alive or dead.
Hodei grew up in the Basque country, in a small town outside Bilbao in northern Spain.
"He was always a kid who loved football. And he loved music. Sometimes he'd sing when he thought we weren't listening," says his father Pablo. "He knew a lot of songs by heart."
The story begins in March 2013, when, like so many young Spaniards of his generation, the 23-year-old left to work abroad - the Belgian port of Antwerp, in his case, more than 700 miles from his home town.
He got a job as a computer engineer. He made friends, including Kevin Rodriguez Fuentes, half-Belgian half-Mexican, whom he met at a beer festival. Then on Friday 18 October the two of them, along with another friend, went out to celebrate Kevin's birthday with a few drinks in the centre of town. They had such a good time they stayed out until the early hours.
"We had a few shots. We were dancing with some Dutch girls. We were showing our moves on the dance floor," says Kevin.
The last he remembers, he was standing outside a bar at 3.30am, chatting to Hodei and some tourists. They were both drunk, he says. He doesn't know how he got home.
The next morning he texted Hodei, but got no reply. The following day, Sunday, he called him, but again got no reply.
Kevin and a friend decided to go to the shared house where Hodei lived. They found out he never came home.
"That's when I realised something was really wrong," says Kevin.
Kevin and his friend checked the hospitals but found no trace of Hodei. So they went to the police.
When Hodei didn't show up at work on Monday morning, they called his parents.
Pablo made plans to leave for Belgium straight away.
"I am his father - not his friend, but his father. A father for me is someone who's always there for what's needed. And when he disappeared, I was what's needed, so I went to look for him," says Pablo.
Hodei's parents got on a plane. Meanwhile, his friends in Antwerp were busy too. His boss, Jan De Kezel, was making posters in the office.
On Tuesday, more than 72 hours after Hodei was last seen, the Belgian police issued a press release declaring him missing.
For Kevin, it was a struggle to provide them with any clues.
"The police were telling me, 'Please try, try to remember.'
"But I mean it's horrible. Because I don't remember what happened."
CCTV images show Hodei going north, in the direction of Antwerp's docks, after leaving Kevin - the opposite direction to his home.
His bank records indicated someone tried to use his card at a cash machine. But the camera on the cash machine showed it was not him.
Police quickly arrested that man, and others who confessed to robbing Hodei near the docks - but all denied having anything to do with his disappearance.
This area, to the north of the town centre, was important to the investigators - it is what they call "the point last seen".
A specialist team was sent to search the docks more than once with sonar and divers, but had no success.
All this activity - the arrests and the searches - spurred on Hodei's family and friends.
Dozens of people flew in from their home town near Bilbao.
"We called the press, met with the mayor, put up posters - we really made a noise," says father Pablo.
The campaign was all over the news in Spain and Belgium.
Footballers - including Christiano Ronaldo - wore Hodei's face on their shirts. The Spanish king met Hodei's family. So did the prime minister, and the mayor of Antwerp.
In Belgium, the national charity Child Focus took on the case, printing thousands of posters and leaflets, spreading them across the country through its network of volunteers.
People walked through every major city within a 300km (180-mile) radius of Antwerp looking for Hodei and putting up posters.
Someone created an online map of where steps had been taken to find him. There are pins from the Canary Islands to Helsinki, and from Ireland to Istanbul.
"I remember that in that period in the night, I would wake up and start crying," says Hodei's boss, Jan De Kezel.
"I felt responsible because he'd come here to work for me, so I felt responsible as a person who brought him here."
Five months after the disappearance, the investigation seemed to have faltered. The early arrests hadn't led anywhere. But then the Belgian charity Child Focus received a call to its missing persons helpline.
A man called Frederik Oprins said he thought he recognised Hodei.
He doesn't live in Antwerp, but he goes there sometimes for dinner and drinks with friends, and he remembered that back in October, a confused drunk young man approached him and his friends in the street, asking for help.
"We asked him 'Where are you going? Where are your friends? Can we do something, do we need to call the police, do we need to call a taxi? Where do you need to be in Antwerp?'"
But he says they couldn't get through to him.
"It was just like he had a smokescreen around his head and he was just repeating the same phrases and we couldn't get through to him.
"After 10 to 15 minutes, the other people in our group, they started to get a little bit annoyed and said 'Let's go.'"
Frederik now wonders about their decision to leave the drunk young man on a bench by the road.
"Because we live in a student city we see that quite a lot, so we're not shocked," he says.
"We said, 'OK, just sit him down. Yeah, he can recover and he's going to be fine.'"
Child Focus passed on Frederik's details to the police, who subsequently interviewed him. They were able to spot Frederik and his friends on CCTV at around the time they spoke to Hodei.
This was an entirely new point last seen, to the west of the town centre. On the other side of this busy road are public car parks, and beyond them is the river Schelde.
"It's one of the most dangerous rivers in Belgium," says Commander Alain Remue, head of the missing persons unit of the Belgian National Police. He's referring to its strong and unpredictable tidal currents.
"There are some cases in which we know, for instance, a witness saw a car driving into the river and we were never able to locate the car.
"We are never using diving teams in the river."
There's no CCTV by the river and the last official sighting of Hodei remains just across the road, where he asked Frederik for help.
What happened after that remains a mystery.
"Something horrible has happened. But what? I honestly have no idea," says Pablo.
The possibilities are constantly running through his mind, he says.
"It's like living a double life. There's the life with Hodei's disappearance, and then there's life with work, normal life, and all this. We're constantly reliving Hodei's disappearance."
In the Basque country Pablo and his friends still meet every week to discuss how to keep the search alive.
They have delivered dozens of letters to the mayor of Antwerp asking him to continue the hunt. They have lobbied the Basque parliament to ask the Belgian government to speed up the investigation, and they have issued a 10,000-euro (£7,000) reward for information.
Now, they're trying to ensure that something positive comes of this nightmare. A group of Spanish MEPs is lobbying the EU to come up with a more co-ordinated response to missing persons across the EU.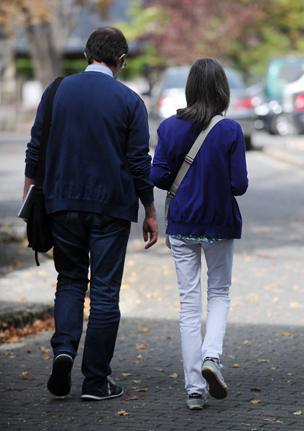 Hodei is just one of thousands of people who go missing in Europe every year. Exactly how many is a mystery in itself. Europe's main missing person's charity says there's a lack of reliable data.
Different countries have different definitions of a missing person, and information about them is collected in different ways.
There will be a vigil for Hodei next month in Brussels, the second anniversary of his disappearance.
"For me, his mother, for anyone who's related to a missing person, if there's no confirmed proof, even the smallest one, that he is dead, then he has to be alive," says Pablo.
"We have to keep looking for him."