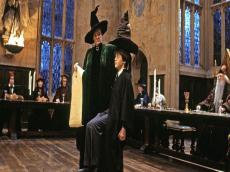 When I was a child, I was, to put it mildly, obsessed with Harry Potter. A voracious reader, I must have read and reread the series at least thirty times, and never tired of it. But each time, when I got to the very end, I'd be filled with this indescribable despair; it was like losing a family member. I didn't want to know what life would be like without new books.
Fortunately, I grew out of that (don't get me wrong, though, H.P is still my main man). A small part of me, however, still gets way too excited whenever J.K. Rowling announces another tidbit about the series that we hadn't known before.
Today is no exception.
As all true Potter fans know, September 1 marks the day all pupils return to Hogwarts. And this September 1 is an extra special one: It's the day little James Severus Potter, Harry's eldest son, arrives at Hogwarts for the very first time.
Rowling announced in a tweet today that James was sorted into, as you may have already guessed, Gryffindor — just like his mom, his pops, and their parents before them. She also noted, cheekily, that Hufflepuff Head Boy Teddy Lupin (Professor Lupin's son) was "disappointed" by the Hat's decision