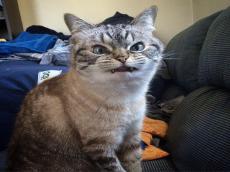 Loki is the internet's newest feline sensation – her pictures have gone viral and people can't stop gushing over her evil vampire face. With over 50,000 followers on Instagram already, her distinctive appearance is only making her more popular by the minute.
Loki's owner Kaetlyn Koch, from Portland, Maine, says that in real life, Loki is just as adorable as any other cat. She loves to to hide under bath towels and lay on her back for a rub. Her murderous stare only seems to emerge when she's confronted with a camera lens. She looks downright scary with her fangs jutting out, even when she's peeking out from under towels or lazing in Kaet's lap. Loki's eyes never seem to close, which is a bit of a mystery.
Kaetlyn didn't know about the vampire look when she adopted the Siamese-mix cat from a shelter two years ago. "They didn't give me many details about her looks," she said. "They said it was healthy but she wasn't able to close it (her eyelids). She's been to the vet three times in the last year, and no one has made mention of her teeth or why she looks the way she does. Still a mystery."
But as frightening as she seems, Kaetlyn says that Loki is positively harmless and docile. She was never interested in adopting a cat in the first place, but decided to take Loki in after hearing that the other shelter cats were attacking her. "I was brought to the office and they pulled open a desk drawer to reveal a very perturbed looking feline," Kaetlyn said.
"She was huddled all the way to the back and glared at me with those big blue eyes, and the girls explained to me that she was very shy, but occasionally showed affection to specific employees. They fed her a few treats and then allowed her to retreat back into the darkness of the desk."
"She wasn't happy to see me, and according to the staff she really didn't like anyone but a select few employees," Kaetlyn added. "For whatever reason I felt drawn to her sweet face despite our bad first impressions, and I adopted her soon after. For the next few months she avoided me as much as possible and hid under my bed."
Eventually, Loki began to trust Kaetlyn and has now become what she calls 'the most affectionate cat.' "She's the most loving and snuggly cat I've ever had," she added.