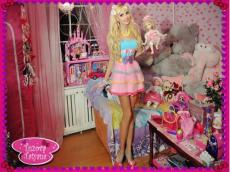 A Russian woman is making headlines for her incredibly plastic life, modeled after the popular Barbie doll. Her bizarre life has earned her lots of nicknames on social media, including 'Living Barbie', 'Real Doll' and 'Pink Lover'.
Looking at 28-year-old Tatiana Tuzova, it's easy to see why people consider her to be a real-life Barbie – she's as impossibly thin as the popular doll, has long blond hair and she's always dressed in tiny pink frocks with puffed sleeves. Oh, and did I mention she drives a pink car with Barbie's face plastered on it?
Tatiana's obsession with Barbie apparently began during childhood, but what used to be a perfectly normal hobby back then, is now a full-time profession. "The first Barbie doll was given to me when I was 12 years old," she revealed. "I immediately saw her as the ideal woman and I wanted to be that ideal. I dyed my hair like hers, bought similar clothing, accessories. My room was always filled with pink houses, furniture, cars and all things Barbie."
Over time, she built a large collection of shoes, handbags, and accesories that her idol would have worn in real life. Her apartment is styled like a life-size Barbie house – it's all pink and filled with soft toys. Her car is pink too, with the name"Barbie" and the doll's face covering the doors and hood, while the glamorous interior features custom pink upholstery, bows, sequins, and, of course, Barbie's face.
Tatiana's fabulously pink world is a subject of constant media attention, and she is regularly invited as a guest on TV shows, at public events, and children's parties. Interestingly, she's a role model for thousands of girls in Russia, and she regularly shares tips with her fans!
"For me, the image of Barbie is not just an image, but a whole life," she said. "From childhood, I was told that I look like a doll. I grew up in a creative family of musicians, studied singing and piano. At school plays, I always starred as a princess. And I liked it, I felt like a princess."
Fascinated by the fantasy world, Tatiana continued to live in it until it became her whole life. She now writes songs for her character and performs them like a doll, and has hundreds of costumes that she puts on every single day. She says that this lifestyle fascinates her and inspires her to do more.
"I have surrounded myself with a fabulous world that I share with others through my creativity," she said. "I have a large collection of not just dolls, but also accessories for them. I have a huge wardrobe, which is constantly updated with new things. I never make an appearance in the same dress twice."
Asked if men aren't put off my her doll-like looks, Tatiana Tuzova says the opposite is true: "I have never met a man who did not like the way I look. Everywhere I go, I get more attention than regular women, guys want to have their picture taken with me, offer me their hearts and promise to take care of me. I seem to annoy women though, so I guess I'm on the right track."
Tuzaova does however admit that her way of life tests men's patience in the long run. She has been through three divorces, and although the men in her life were very willing to support her obsession at first, buying her dolls, plush toys and pink decorations for her house, they got tired after a while and eventually asked her to choose between being a living Barbie and their marriage.
When asked why they married her when they knew who she was from the beginning, they answered that they thought it was just an image or that she would change with time. But she hasn't and says she never will. "Many people think I'm out of my mind living as a doll at my age, but how can I give up on something I've wanted all my life," Tatiana asks rhetorically. "10 years, even 50 years from now, I will live the same way".