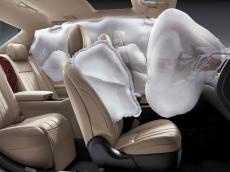 With the news about Takata's airbag recall over a defect that has been blamed for at least six deaths, it's important to remember that airbags have saved many thousands of lives since they were first introduced in the 1970s.
In front crashes, airbags reduce the chances of death by about 30%, according to the National Highway Traffic Safety Administration. That's to say nothing of how many serious injuries, particularly devastating head injuries, have been prevented.
Most cars today have multiple airbags protecting the driver and passenger from both front and side collisions, as well as from rollover accidents. The "Supplemental Restraint Systems," or SRS, as they are called are designed to help the car's seatbelts protect occupants. Airbags prevent occupants from hitting parts inside the car and also help cushion the violent movement of the body during an impact.
Here's how they work:
Sensors in the car detect when an impact has happened. The sensors send a signal indicating sudden deceleration to a computer inside the car. Airbags won't deploy in low-speed crashes in which seatbelts alone should provide enough protection. The computer determines, based on the signal it's getting from the sensor, whether the airbag needs to deploy.
The computer also takes into account data from other sensors in the front seats to determine whether there is someone sitting in the passenger seat and how big that person is.
Takata recall: What you should know
Small children can be hurt by airbags which, when they deploy, are moving at speeds of up to 200 miles per hour. For that reason, the front passenger airbag will be deactivated or might be deployed more gently if sensors detect a small person sitting up front. In any car, the safest place for children to ride is in the backseat.
The airbags may also deploy more slowly if sensors detect that front seat occupants are not wearing seatbelts. That's because unbelted occupants can collide with airbags in ways they aren't supposed to and end up being hurt by them.
All of the calculations take place in fractions of a second so that the airbag deployment happens almost instantaneously.
The airbag on the driver's side is folded up like a parachute inside the steering wheel. Within the airbag is an inflator. This small device contains chemicals that emit a large volume of harmless gas, mostly nitrogen, very rapidly. This gas fills the airbag causing it to burst out and create a soft gas-filled cushion.
Related: Cars with recalled airbags - Is yours on the list?
A front airbag is designed to not only inflate rapidly but also to deflate rapidly so that it's not blocking the driver's vision and movement for longer than needed.
In the case of detects of the Takata (TKTDY) airbags something is going wrong with the inflators and causing them to explode, sending pieces of their metal containers flying. The exact cause hasn't been determined.