Jessica Springsteen, daughter of rock legend Bruce and E Street Band alumnus Patti Scialfa, is edging closer to joining the U.S. Olympic showjumping team.
A year out from the Rio Games, Springsteen is among America's 10 leading riders -- and tells CNN she is breaking through at the top.
"Last year was the biggest breakout year for me," says the 23-year-old. "I proved I could be competitive against these top riders."
Springsteen beat Olympic champions and jumping legends to win at Dublin's RDS Arena last August -- a venue her dad had played two years earlier.
This time he was in the crowd, leaving his daughter to sample the stadium atmosphere she remembered from trips on tour as a child.
"The arena there is absolutely massive. It's huge, and there were thousands and thousands of people," she recalls of her successful trip to the Dublin Horse Show, where she won the Anglesea Stakes from a field of 52 international riders.
"It was packed. Everyone there knew every rider, every horse, and it was like a family event as well. It was such a fun show to be a part of, it had so much history."
'The ostriches were violent'
The Springsteens have always had horses.
Jessica rode from the age of four or five, spending time at Stone Hill Farm, the family's 300-acre estate in Colts Neck, New Jersey, perched beside a sprawling U.S. Navy base.
After high school, the Springsteens moved there full time. Jessica calls the place "horses' heaven" -- though it sounds more like a zoo.
"We have some goats, some chickens, and we used to have pigs. There used to be two ostriches as well, but they were a little bit violent, so we had to give them away," she says.
"When we were little, we used to play with the goats all the time. We each had our own little goat and we'd go and run around with them.
"We used to have a lot more animals here. It was a true farm life."
It was also a farm life opposite a training center for young riders. "One of the best for junior riders in the country," Springsteen calls it.
So that's where she went to work on her biggest weakness: her nerves.
"I was so nervous when I was really little. I used to be afraid to canter over the fences -- I was so nervous to go any faster and I wouldn't win anything."
'She has that last ingredient'
That training clearly paid off, because Laura Kraut says that's not the Jessie Springsteen she knows.
Kraut, 49, won team jumping gold at the Beijing Olympics in 2008 and has been Springsteen's trainer for the past five years -- though CNN understands that relationship is coming to an end.
"She is able to walk into any competition and totally focus, and basically get in there and get the job done," says Kraut.
"A lot of riders are super talented but maybe just lack that little bit that's necessary when they're in the competition. She naturally has that last ingredient that makes you a winner.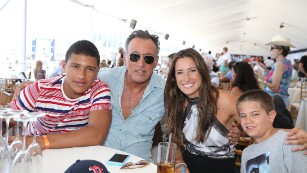 EXPAND IMAGE
"I tell her what I want her to do, she goes in and she can do it. A lot of people can't. They have good intentions but go in and freeze up a bit, or just can't make it happen. She just does it. It's very easy to help somebody who can execute."
In particular, Kraut admires Springsteen's ability to maintain that focus while dealing with the attention that comes with her last name.
Her dad enjoys seeing her compete -- she would be at an event in Europe, he would be on tour, so he'd hop across to watch -- and of course, with him came the cameras.
Then, about a year ago, her sport began to recognize her ability to reach a new audience as a leading young, female, celebrity rider. Springsteen signed a deal with Gucci and began to take center stage at media events.
"Now she's older and has become an adult, it's becoming more and more of a situation," admits Kraut.
"When she was younger, she was a little shielded from it. Now that she's getting older, people are wanting to cling to her and have something to do with her. She handles it all so gracefully whenever I'm with her and she's mobbed by people.
"It was funny, though. I learned really quickly that she has the uncanny ability. She can be distracted, mobbed, talking to 20 different people two minutes before she enters the competition ring, and she pulls it together.
"So I stopped worrying about it. That's her way.
"Sometimes, you wonder if she had to sit there and focus for two hours, it might be too much. I think she likes being distracted and not having to have her head around it all the time. Then she gets in the arena, and all of her instincts kick in."
Springsteen, for her part, says she doesn't care as long as the attention helps her sport.
"I'm excited. I want to help the sport grow, have it gain more attention and be looked at as a real sport," she says.
"It has grown so much in the States, at a faster pace. Hopefully it will keep its momentum.
"Nothing happens overnight but it's definitely growing, especially over the past few years, a lot faster."
Total devotion?
With her university degree at Duke out of the way, not much stands between Springsteen and the Olympics.
She has proven horsepower for the task in Vindicat W., a 13-year-old gelding who won Olympic gold on the British team with Peter Charles at London 2012. Springsteen calls him Vinnie. Charles called him "one of the best horses I have ever ridden."
"I definitely couldn't have done this without him," says Springsteen. "He was the perfect combination of being brave but also a really competitive horse -- he gave me a lot of confidence."
Kraut has since found another winner for Springsteen in Davendy S., a 12-year-old mare she spotted at a show in Madrid last May.
For Kraut, that leaves one last step for Springsteen on the path to equestrian glory: giving over her life to her sport. A full, unyielding commitment to showjumping.
"It's a credit to her that she could juggle school and riding, but it's up to her to decide to put her mind to this and put the time in that anyone at that level has to, to make it," says Kraut.
"I believe she will. I feel like that's the intention. I hope so. It'll be a change for her, because it's not something that she has ever done. There are those of us who eat, breathe and sleep this sport ... that'll be different for her but, once she gets used to doing it -- if that's what she wants -- she'll do it.
"She can go as far as she wants to. There's no reason for her to not be able to achieve the highest level -- the Olympics, the World Equestrian Games, whatever it is she wants.
"She has got all the ingredients. The last part is totally devoting herself to doing it."