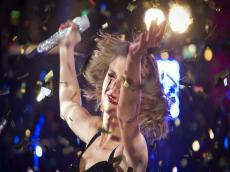 Taylor Swift famously pulled her music from Spotify last year because she didn't believe the streaming service fairly compensates artists. Perhaps she'd be more impressed with a new feature from a startup called ChangeTip: the ability to tip artists on SoundCloud using the digital currency bitcoin.
Spotify pays artists, on average, less than one cent per play, leading Swift to tell Time that it "has been shrinking the numbers of paid album sales." She called out both Beats Music and Rhapsody as better options for artists because, "you have to pay for a premium package in order to access my albums. And that places a perception of value on what I've created." Swift's music is not on SoundCloud currently, although the site has many covers of her songs. Last year, SoundCloud launched On SoundCloud, a partner program that allows artists to get paid by advertising against their content.
ChangeTip, which calls itself a "money layer for social media," announced today a SoundCloud tipping feature that it created through SoundCloud's public API. The company's prime vehicle is a button, embeddable onto web sites via the Tip.Me widget, that allows content producers (be it news outlets large and small, bloggers, musicians) to accept tips. In the early days of the company, it called itself a "love button" for the Web, though it has moved away from that language.
The bitcoin startup sees this newest feature as a unique and exciting monetization option for artists. Perhaps artists will agree. The only drawback? The donations will be in bitcoin, a currency that still has large volatility, fluctuating in value from around $210 to $240 over the past few months. (The price very briefly hit $300 on March 10 and has not gotten that high since.) But there already are many services, such as BitReserve, for quickly exchanging bitcoin to other currencies.
"Now people can actually reward content that they really appreciate, and it will go directly to the individual, rather than to the label or to an intermediary," says Kyle Kemper, the company's head of tipping. "We are creating a new channel for fans to engage with artists, and for artists to engage with fans. And beyond SoundCloud, with the ChangeTip platform any musicians can accept donations over Twitter and on their own web sites." Kemper notes that SoundCloud has been one of the most requested platforms from ChangeTip users.
Ultimately, ChangeTip wants to become the de facto way that people exchange micro-payments over the Web, with no fee and shorter transfer times.
But that lofty goal is still far away. For the moment, the startup is mostly being used by cryptocurrency enthusiasts to send bitcoin to each other, or to journalists and bloggers as a kudos for bitcoin coverage. The tipping happens over Twitter, using fun shorthand that users can customize, like sending someone a beer, or a burger, or even a poutine. With a single tweet, the system recognizes those as keywords tied to a specific amount of bitcoin.
Daniel Palacio, founder of 2-factor authentication service Authy, points to ChangeTip as one of the few apps the bitcoin community has produced that, "already are very useful for lots of people." The platform is "a great and fun way to send money to anyone," he said, speaking to Fortuneearlier this year.
Tyler Winklevoss, who along with his brother Cameron has been extremely bullish on bitcoin, said, "I think that's such a cool application, the ability to tip a blogger, send them a coffee, make sure their work is appreciated. And it can truly only live inside bitcoin—that's the kind of thing we need to see more of."
ChangeTip is just one of many apps using SoundCloud's public API, so the company declined to comment on this news.
It's unlikely the ChangeTip button is going to lead Taylor Swift to post all her songs to SoundCloud. But for amateur artists seeking to build a fan base, this new functionality could be exciting.