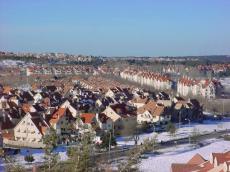 Ifrane is a small town and ski resort in Morocco, famous for its European style and its similarity to the tourist haven of Switzerland. Developed by the French in the 1930s, Ifrane is so reminiscent of the Swiss Alps that it is fondly referred to as 'Africa's Little Switzerland'.
The town is located at an altitude of 5,460 feet above sea level in the Middle Atlas region. Its neat red-roofed houses, blooming flower beds, lake-studded parks, and snowbound winters present a huge contrast to Morocco's narrow, maze like streets and old, earth-colored buildings. It is truly a wonder that such lush greenery, cedar and oak forests, and pasturelands can even exist in the midst of the hot and dry climate of the region.The history of Ifrane can be traced back to around 500 B.C. when it was the capital of an ancient Jewish Kingdom. It was called 'Oufrane' then, which comes from the Berber language, meaning 'caves'. It is believed that Jews fleeing from King Nebuchadnezzar found refuge there, and in later centuries, Arabs and Romans found their way there too. Soon, Ifrane became an important stop for caravans coming from the Sahara Desert, carrying goods like amber, ostrich feathers and other riches.
During the protectorate era, Ifrane served as an administrative town for the French government. Just as the concept of 'hill stations' were developed by the British in India, the French were attracted to Ifrane for its cool climate during the summer. They converted the town into an ideal settlement for expatriate European families – it was designed to make its foreign inhabitants feel at home. Hence, the architectural style and even the trees and flowering plants were imported from Europe.When Morocco gained independence, the locals moved into Ifrane, infusing it with a bit of their own culture. They enlarged the town, built a mosque, a public market, and added other amenities. The prestigious Al Akhawayn University was established in Ifrane in the mid-1990s. Many of the old chalet houses have been torn down and replaced with condos. Still, there are plenty of high-pitched red roofs dotting the town's landscape.
Ifrane is easily accessible by road, making it a popular tourist destination among locals and international tourists. The town boasts of powdery snow in the winters and cool summers, making it the ideal resort all year round. Free of crime and one of the cleanest cities in Morocco, it serves as the winter playground for the wealthy from the nearby cities of Fez, Meknes, and Marrakech who go there to ski. For the people of Morocco, the experience of a European winter is never too far away!
/Odditycentral.Com/