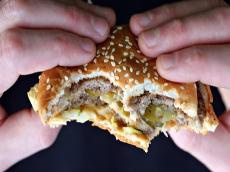 A scientific study suggesting that eating a lot of fat may not be so bad for you is misleading, and if you want to eat cake you should do it like Mary Berry and opt for a smaller slice, according to nutrition scientists.
Saturated fats in foods such as meat, cakes and butter are still bad for your heart, in spite of headlines apparently giving them a clean bill of health earlier this year. Those reports were based on a study by Dr Rajiv Chowdhury of Cambridge University published in March.
The Cambridge team suggested that polyunsaturated fats in fish and olive oils were not necessarily better for us after all, overturning the assumptions of decades. They concluded that dietary guidelines might need to be rethought.
Widespread coverage of the March study in UK newspapers has led to uncertainty and confusion, the nutrition scientists said. What received less publicity were the corrections to the articles which appeared in the Annals of Internal Medicine, although the authors said they did not change the conclusions.
Berry, judge of The Great British Bake Off, "cooks cakes which everyone would think are awful (for your health)," said Tom Sanders, professor emeritus of nutrition and dietetics at King's College London yesterday. "But [Berry] says, 'I only eat a little bit'."
Christine Williams, professor of human nutrition at Reading University, told of the difficulty in comparing the findings from more than 70 studies Chowdhury and colleagues pulled together for their meta-analysis. Dietary studies are notoriously problematic, because people who take part forget or deliberately omit to mention foods they are eating that they know are supposed to be bad for them. "About 60% [of people] when asked what they eat systematically under-report by 20-30% their energy [intake]," she said. "Overweight people are more likely to do so than underweight people."
Studies also only ask what people have eaten at one point – maybe a day or a week – and then make assumptions for years to come, she said.
Scientific experiments in animals and people have shown that diets high in saturated fats lead to high levels of "bad" of LDL cholesterol in the blood, which stick to the walls of the arteries and clog them, sometimes leading to heart attacks and stroke, said Prof Andy Salter, head of nutritional sciences at the University of Nottingham.
All saturated fatty acids are not equal, he said – some raise levels of "good" HDL cholesterol as well as bad. Studies had also sometimes found that people who ate a lot of saturated fat also had less active lifestyles and were more likely to smoke, so the picture was complicated, he acknowledged.
Since the 1960s there has been a big drop in the amount of whole milk, butter and beef we consume, but people are no better off if they replace saturated fat with refined carbohydrates, said Sanders. Unrefined carbohydrates, such as whole grains, are good, but refined carbohydrates, including sugars, are not. Low fat yoghurts have been heavily laced with sugar, for instance, to make them taste better.
Obesity and type 2 diabetes are increasing, said Sanders. "Obesity is not about carbohydrate intake – body fat comes from dietary fat," he said.
Snacking and portion size were at the heart of the problem, he said. A muffin on the way to work could be 600 calories. Washed down "with a nice latte", he said, "that's half your intake in a day". Government guidelines suggest women need around 2,000 calories a day and men 2,500.
Salter said it was impossible for most people to monitor their saturated fat intake all the time. "You have to look at foods, not fats," he said. "The advice is that two to three portions of red meat a week is probably OK and will give you some important nutrients." Obesity is fuelled mostly by the foods eaten between meals, such as muffins, crisps, cakes and biscuits – all high in fat and made palatable by sugar, said the scientists.
"Eating fewer calories is the only effective way of losing weight," Sanders said. "Smaller plates are useful – we have these Shrek-sized bowls. We have got used to bigger and bigger portions."
/theguardian.com/