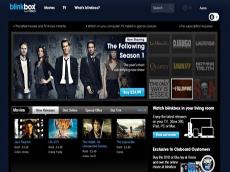 Tesco is understood to be planning to sell off Blinkbox just three years after acquiring the video streaming service.
The retailer acquired Blinkbox, which was set up by former Channel 4 and Vodafone executives, to try and create a formidable competitor to Amazon's LoveFilm and Netflix.
It is understood that Dave Lewis, Tesco's new chief executive, has kicked off a strategic review of the business and intends to seek a buyer.
If a buyer cannot be found it is most likely that the eight-year-old video service will be closed.
Michael Comish, the Blinkbox co-founder who was promoted to group digital director at Tesco last year, is expected to stay with the supermarket chain.
Lewis is busy dealing with the fallout from accounting scandal which hit the company last week, when Tesco admitted it overestimated its first half profits by £250m, after a whistleblower had alerted it to over-optimistic accounting for payments from suppliers and business costs.
The admission resulted in the retailer's share price plummeting and four senior managers being suspended. On Wednesday Tesco acknowledged that it is to be investigated by the Financial Conduct Authority. Lewis also has plenty of issues to sort out with Tesco's core supermarket business, which is losing market share.
Tesco and Blinkbox declined to comment.
Tesco took an 80% stake in Blinkbox, which was owned by Eden Ventures and Nordic Venture Partners, in 2011 for an undisclosed sum.
Blinkbox offers more than 10,000 films and TV shows on devices including PCs, Macs and tablets, and has content licensing deals with partners including BBC Worldwide, Channel 4 and film studios such as Fox and Universal.
• To contact the MediaGuardian news desk email [email protected] or phone 020 3353 3857. For all other inquiries please call the main Guardian switchboard on 020 3353 2000. If you are writing a comment for publication, please mark clearly "for publication".
/theguardian.com/